PARIS - Eglise Saint-Ferdinand des Ternes
Organ : 3 keyboards , pedalboard - 34 stops
Order obtained after an international competition organized by the City of Paris.
It is an organ built with rather french classic stylistic references, freely transposed to allow a wider musical repertoire.
The general plan of this organ is close to that of Saint Tropez's organ, built 15 years earlier. Nevertheless, and contrary to this one, the complete division of the Solo is inserted into the windchests of the Great-Organ. The Pedal's division of 5 stops contains a Basson of 16' in half-length.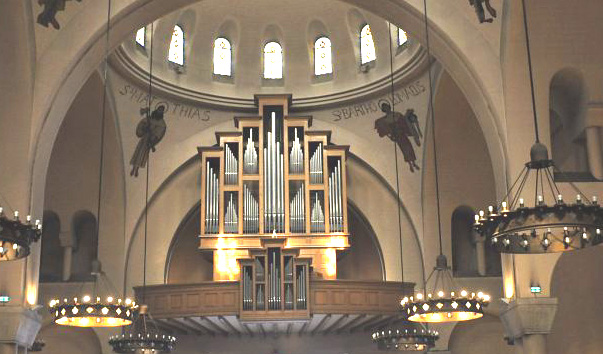 A new gallery was also built on this occasion. It is built with big glue-laminated beams which are anchored in the facade wall of the building. The overhang is about 4, 50m.
Composition :
| | | | |
| --- | --- | --- | --- |
| Positif - 56 notes | Grand-Orgue - 56 notes | Récit - 56 notes | Pédale - 32 notes |
| | | | |
| Salicional 8' | Montre 16' | Bourdon 8' | Bourdon 16' |
| Bourdon 8' | Montre 8' | Voce humana 8' | Flûte 8' |
| Montre 4' | Flûte 8' | Flûte 4' | Flûte 4' |
| Flûte allemande 4' | Prestant 4' | Nazard 2 2/3' | Basson 16' |
| Nazard 2 2/3' | Bourdon 8' | Flûte 2' | Trompette 8' |
| Doublette 2' | Doublette 2' | Basson-Hautbois 8' | |
| Tierce 1 3/5' | Fourniture 4 rangs | Voix humaine 8' | |
| Larigot 1 1/3' | Cornet 5 rangs | | |
| Plein-jeu 5 rangs | 1ère Trompette 8' | | |
| Cromorne 8' | 2ème Trompette 8' | | |
Accouplement Positif/G.O. - Récit/G.O. - Récit/Positif
Tirasse sur pédalier I, II, III - 2 Tremblants